Diary of Events
Each of our interest groups have their own diary of events.

If you are a member please go to the Members' Area and selct the diary you require.

If you are not a member then please use the "Interest Groups" menu above to go to the group you are interested in and use the e-mail link to contact the group leader for their diary information.
Coming Events


Regular Open Meetings - Select Open Meetings from the above menu.
Past Year's Events
Her Majesty the Queen's 90th Birthday Celebration Afternoon Tea Party
At Savill Gardens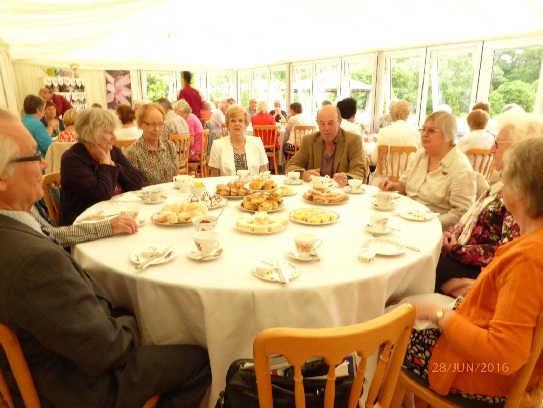 This year the Bracknell Forest U3A outing was to Savill Gardens in celebration of Her Majesty the Queen's 90th birthday with an afternoon Tea Party. We travelled by coach from Bracknell Bus Station with a second pick-up in Ascot High Street. We reached Savill Gardens at 2pm in beautiful sunshine, which stayed for our stroll around the gardens, taking in the Queen Elizabeth Temperate House which she opened in 1995. This glasshouse showcases examples of rare and unusual plants, and the splendid Rose Garden opened by Her Majesty the Queen in June 2010. The Garden houses over 2,800 roses.

After an hour and a half of strolling around the grounds we made our way to 'The Lawns' and our own private Marquee for Afternoon Tea. Our full afternoon tea was served on fine bone china with a selection of fine finger sandwiches with 4 different fillings, Macaroons, Rose scented shortbread biscuits, homemade scones with raspberry jam and clotted cream and Victoria sandwich slices. Accompanied by unlimited freshly brewed filter coffee or English breakfast tea.

After the Tea Party our members had time to wander around the shop before departing on the homeward journey. This was a most unusual, event enjoyed us all.