If you are interested in the history of our surroundings, this group may be for you.

The aim of the Group is to delve into the history of local areas by visiting local historical places and arranging guided tours or having a speaker on a topic of local historical interest. Meetings are held on the last Thursday in the month.

A Risk Assessment for this Group (especially related to the Coronavirus situation) is here.






As with everyone else, we have not been able to run our normal programme of activities for the past year but we have managed some meetings by Zoom.

A significant activity for some of our members was taking part in the National u3a High Street project in September 2020. The purpose of this project was to survey our local shopping areas to record the shops that were in business at that time. We will then repeat the survey, probably during September 2021, to identify what changes have taken place during this difficult time for the retail industry.

This project has taken place in 234 u3as around the country and the national High Street project team will produce an interactive website to show the results of all the surveys. Our Local History group surveyed Crowthorne High Street, Bracknell High Street and The Avenue in the Lexicon.

In August 2020 we held a socially distanced meeting at Birch Hill Community Centre to discuss the memoirs and life of Cissie Simmons, a lady who was born in 1907 and lived all her life in Warfield. Later this year we hope to visit the area and lanes that she talks about in her memoirs. Also, during the year, we held two Zoom meetings in which members read extracts from the book by David Neal Ford called East Berkshire Town and Village Histories, and in another Zoom meeting we had a fascinating talk by John Painter from the Friends of Reading Abbey on 900 years of Reading Abbey, which emphasised how important Reading was in the middle ages.

As life gets back to normal we hope to get out and about more, and have plenty of ideas from our plans that we were unable to achieve during lockdown.



For more information please email:-




Visit To Fawley Railway October 2019
For our October meeting we visited the Sir William McAlpine Railway Museum at Fawley Hill, near Henley. As it was outside their normal opening season, we were given a special tour of the museum, and it is a fantastic place. They seem to have something of everything there, and the

museum is not limited to railways! Anything remotely connected with life on the railways is there, even including old patty tins and jelly moulds, although it is not clear how they fit in.

There are old railway seats, model railways and engines, old cars and a big collection of the metal advertisements we used to see on railway stations when we were young.

It is well worth a visit, and during the summer months it is possible to have a ride on a working steam railway round the estate. There is even a complete Victorian railway station preserved here after being threatened with demolition.

The Fawley Railway Museum is run by volunteers, and was the venue for The Great British Model Challenge series on television.

Visit to Mapledurham Mill August 2018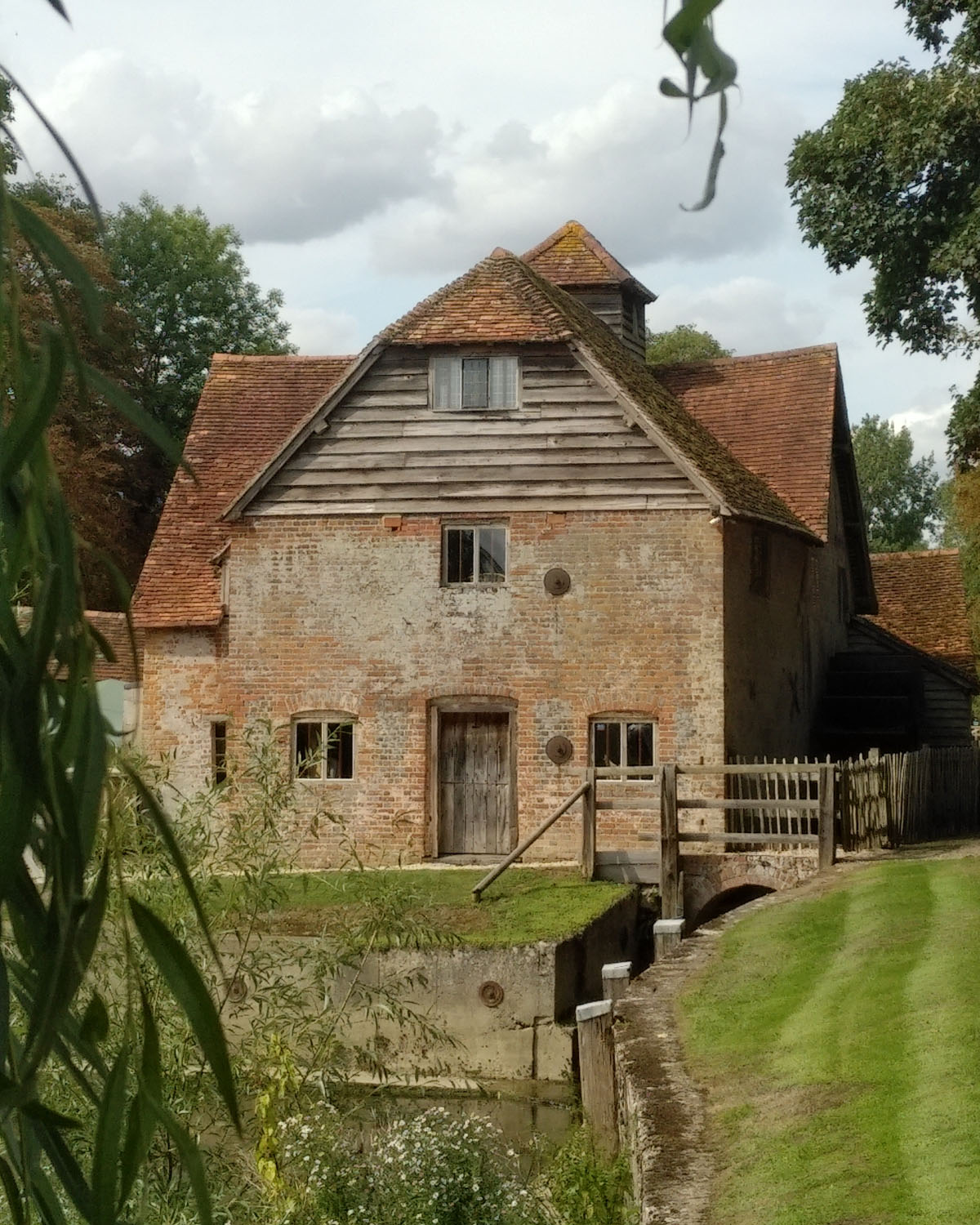 Group members visited Mapledurham Mill on the north bank of the Thames opposite Purley.

During the last few years an extensive restoration programme has allowed the mill to grind flour in the traditional way.





A modern introduction is the turbine driven by the flow of water in an Archimedes screw, which generates electricity with any surplus being sold to the National Grid.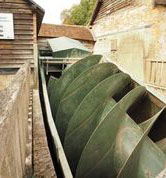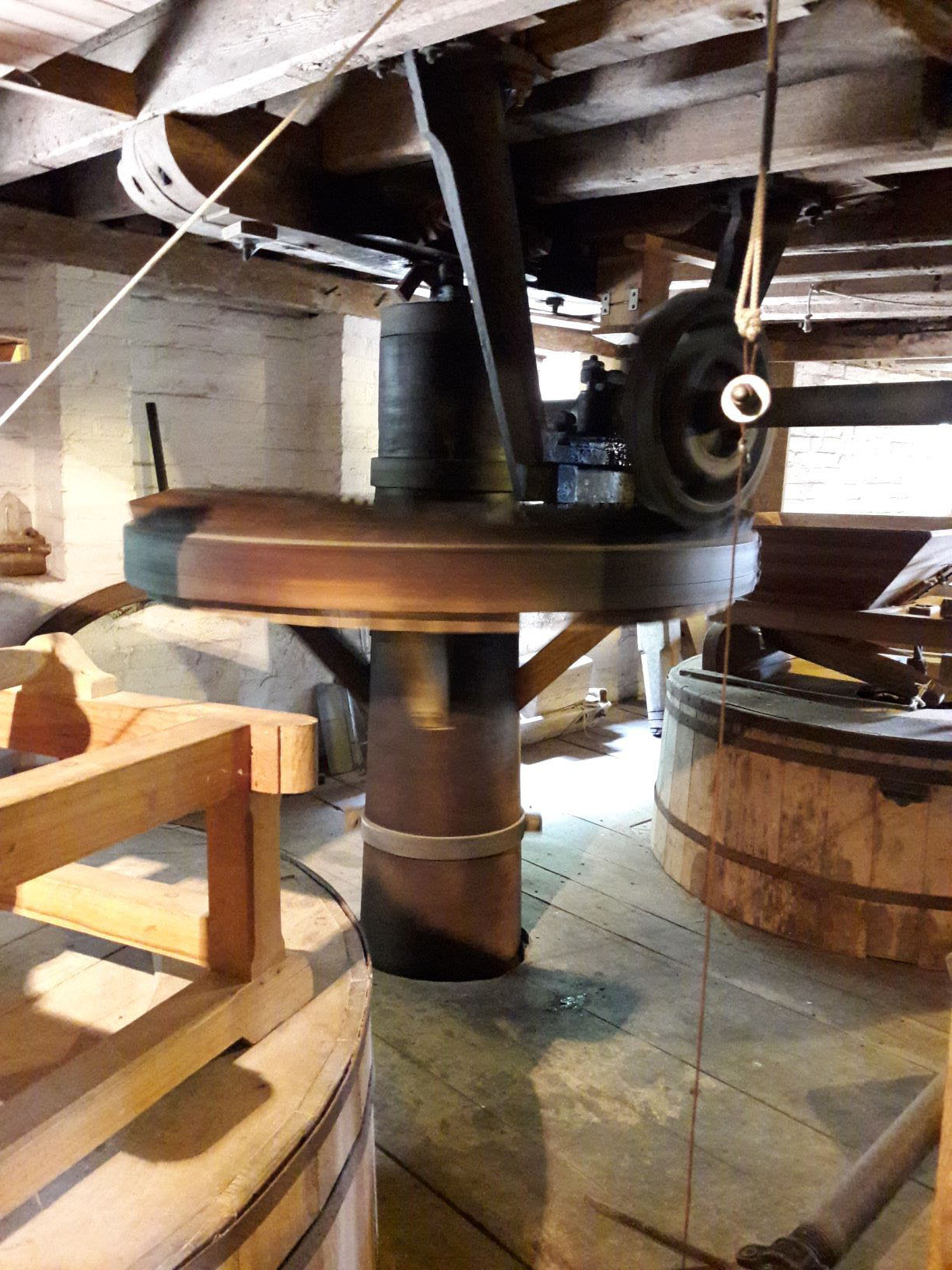 This photo taken on the stones floor shows millstones bottom left and right. In the centre the large vertical drive shaft is rotating at speed to turn the millstones and to power ancillary equipment within the mill.